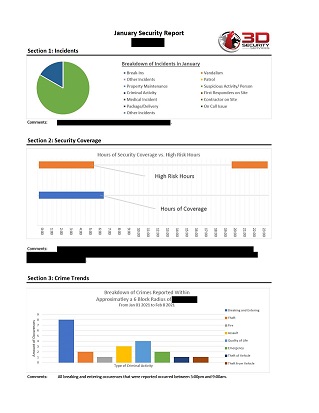 Posted By Scott
|
Feb 12, 2021
Information is Key….(Only if you get it!)
At the beginning of our 3D Security staff meetings, the first thing that we do as a team is to read our mission statement which is posted on the top of the meeting agenda (note: we do not read it out loud and all together – that would be either corny or scary!).
It reads:
Be the recognized industry leader advancing security best practices in Ontario Condominiums.
&
Raise the public perception of uniformed security while exemplifying professionalism by providing properly trained and motivated team members all the time.
One of the ways that we are accomplishing the first objective is by working with condominiums that are serious about security, and then giving them the information they need to make the best decisions for their residents. Part of this is completed through the monthly Situation Report that is provided to the Board of Directors and Property Manager.
The information for the situation report comes, partly, from the daily shift reports of the team members that know the property the best – the guards and concierges that work there every day. It is amazing to us how many companies are still doing either paper shift reports (that no one ever looks at) or not doing shift reports at all. Using our securedcondos.com software, we have designed the shift reports so that the information is all on-line, can be easily categorized, and can be compiled into a monthly report to give to management. This report provides them the opportunity to see what is happening in their building, what crime trends are taking place in their neighbourhood, what security measures are working (and what is not), and what near misses they experienced.
To achieve our mission statement and be the best at what we do, we need to be committed to CNEI (Constant Never-Ending Improvement) in terms of both the service levels and management information provided to our valuable partners.